A home inspection is an important step for anyone looking to buy a property. It is a safety and quality assessment of the home that helps buyers understand what they are getting into before they make the purchase.
A professional inspector will typically perform a home inspection, inspecting the property inside and out for potential issues such as structural damage, plumbing problems, electrical hazards, and other safety concerns.. The inspector will then provide a written report outlining any potential issues with the property. By having this information in hand, buyers can make an informed decision about whether or not to purchase the home. Additionally, a home inspection can also give buyers leverage in negotiations with the seller if repairs or upgrades are needed. It is important to note that a home inspection is not a guarantee against future issues, but rather an assessment of the property's current condition.

A home inspection is an important step in the process of buying or selling a home. It helps both the buyer and seller understand any potential issues with the property before they commit to the sale. There are two types of home inspections that typically happen during a home sale: a seller's inspection (or pre-listing inspection) and a buyer's inspection.
Prior to listing the property, a seller's home inspection is performed. Some sellers choose to have their home inspected as they begin the process of preparing their home for sale, in order to address any potential issues ahead of time and save time during the closing process. Additionally, addressing any issues ahead of time can increase the value of the home and make it more attractive to potential buyers.
A buyer's inspection takes place after you accept a buyer's offer but before you close the sale. If faults are detected during a property inspection, the buyer may be permitted to renegotiate their offer or request repairs. If the home inspection reveals more faults than the buyer is willing to deal with, the buyer may withdraw from the purchase.

A knowledgeable home inspection is required to make an informed decision and secure the best possible terms on a new home. It is crucial to understand exactly what will be checked during a home inspection so that you know what to expect. With this information at your hands, you can feel confident about your forthcoming real estate venture! If any problems are discovered during the inspection, the buyer and seller return to the negotiating table to rectify them. This could imply renegotiating the sales price, agreeing to repairs, or even canceling the transaction entirely. A home inspection contingency might protect purchasers by allowing them to get out of the deal.
It's not necessary for you to be present for the inspection, however, it's normally recommended. Your real estate agent doesn't have to be present during the inspection, but many prefer to be. Going through the home with the inspector can help you better understand any issues and what they can mean for your safety and comfort if you decide to buy the house. If there are any concerns with the house that you want to be rectified before closing, your agent, if they are there, will be able to advise you on how to negotiate with the sellers.
What's Covered In A Home Inspection?
A general home inspection typically takes 3-4 hours, however, this can vary depending on the size, age, and complexity of the home and property.Know the benefits of getting a home inspection here.
The following are some of the specific areas that the inspector will evaluate: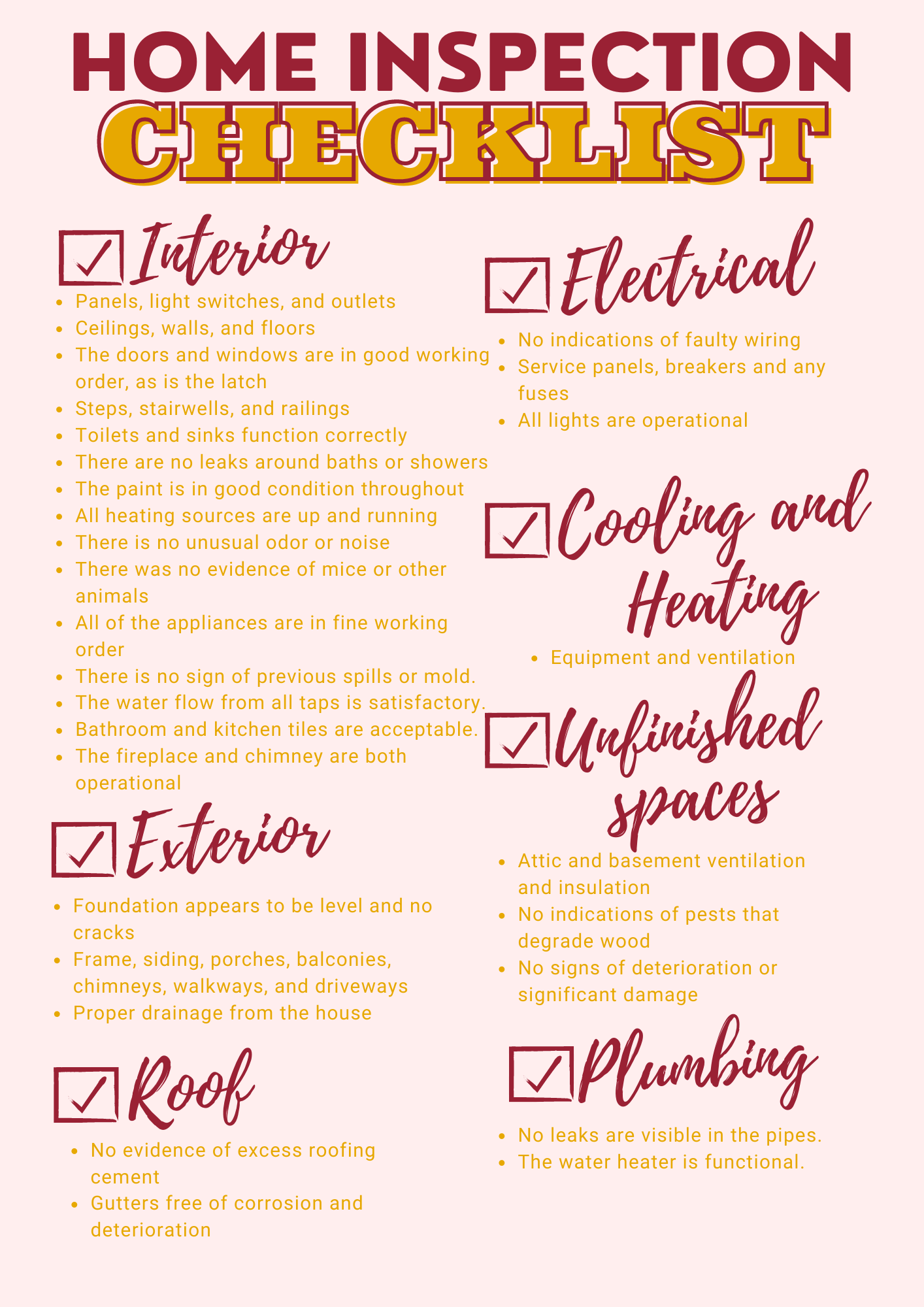 Technically, an inspection is not exhaustive and does not identify concealed or latent defects. It won't cover aesthetic issues, things that might be considered matters of taste, cosmetic defects, etc. An inspection does not determine the suitability of a property for any use, its market value, its insurability, its value, its life expectancy, or items that are not permanently installed. It does not assess whether buying is wise. Properties with four or fewer residential units, along with their attached garages and carports, are covered by these Standards of Practice.
What are Home Inspectors not allowed to do?
The inspector is not required to operate any system that has been shut down or is not functioning properly, evaluate low-voltage electrical systems, move personal items, disassemble, open, or uncover any system or component, enter or access any area that may be unsafe, enter crawlspaces, inspect underground items, do anything that may be risky or unsafe, inspect decorative items, examine common areas or areas in multi-unit housing, inspect intercoms, speaker systems, or examine any other device that may be dangerous or risky.
Home inspectors are responsible for examining all aspects of a home and providing an objective report on what they find. However, inspectors are not allowed to do certain things during their inspection due to their focus on the structure of the home. A walkthrough can verify these details.
Following the general home inspection, your home inspector might advise performing the necessary specialty inspections to learn more before moving forward with the sale:
Discover the Most Frequent Issues Found During Home Inspections and How to Address Them
When all of your inspections are complete, it's time to decide what to do with the results. You should think about the following:
• Which problems pose a risk to you and your loved ones?
• Which ones would be expensive to fix?
• Which ones would make it difficult for you to move in on time?
• Which repairs are you capable of handling yourself?
Prioritize the problems based on their importance and cost, and decide which fixes you can do yourself. You can choose from the following options as long as you're still within your contingency period:
• Continue as scheduled, with the same sales price and conditions as you initially agreed to.
• Renegotiate the price with the seller or request credits toward your closing costs to cover the damages/repairs.
• Request that the seller make specific repairs.
• Cancel your purchase contract completely and walk away from the deal.
If you're in search of a reliable home inspector, look no further! We're here to assist you in finding the right professional for your needs. Contact us today! Here are the things to look for when choosing an inspector!
Schedule your home inspection today!