What is a Teardown Home? Do You Own One?
Posted by Billy Rabbitt on Tuesday, December 7, 2021 at 10:30 AM
By Billy Rabbitt / December 7, 2021
Comment
It is time to sell your home, but after a long period of time living here, there is plenty of wear and tear and it is not exactly the most stunning home on the block. It is not like the freshly flipped and up-to-date renovated home that sold in just hours that sits at the end of the block.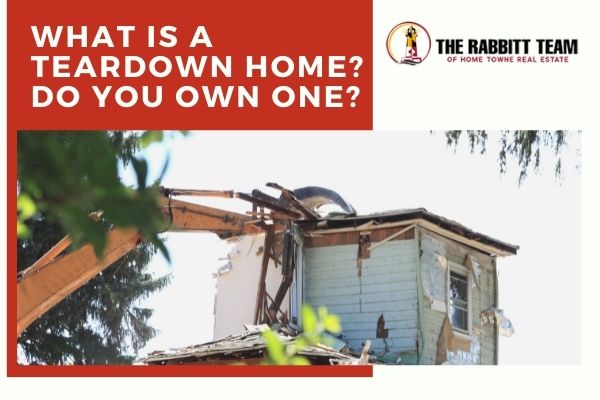 To appeal to a large range of buyers-even in a hot and highly competitive market, it is advised to get your home in the best condition possible. Freshen up the paint, make sure the yard is at peak curb appeal, and maybe even stage a room or two.
You may have seen other homes that are aging sold to investors to revitalize or scrap completely to make room for a brand new one. Selling your home as a teardown home could save you the time and money of fixing up your home, and may get you on to purchasing your next dream home sooner. In a highly popular neighborhood of a dense urban area, where open lots are pretty much non-existent, buying an existing home just for the intent of tearing it down for the land and space to build a new one is becoming more common. In some extremely high-demand neighborhoods, you may see a developer or builder redevelop several existing properties side by side, knowing that buyers will eat up brand new properties in a prime neighborhood.
With real estate inventory still on the low end all over the country, not just real estate investors are looking for properties with the focus of teardown home possibility. Should you consider selling an older home in a prime neighborhood as a teardown?
What Exactly Makes a Good Teardown Home?
Often the condition of a home can seem like the biggest indicator of whether it would be a good candidate to be considered a teardown, but really location plays the biggest part in the role. This rings true especially if you are hoping to target a builder with your teardown marketing strategy. Builders are looking for neighborhoods in areas with the highest demand from current buyers. For example, your home is within walking distance of all the best cafés and just a few blocks from public transportation.
A tear-down simply isn't just an older or outdated home. It can include a luxury home or a fairly new home. Some homes, depending upon the neighborhood in dense urban areas, can sell for millions, just to be torn down. Other attributes of properties that builders look for in a teardown situation include a lot that does not have an irregular shape. A home on an odd lot, with plenty of strange angles, can be difficult to bring equipment into and develop.
Some builders are looking for the possibility of building a multi-unit structure where a single-family home was, to maximize the earning potential. In some areas, where a home is very hard to find, buyers are looking for a more affordable home making it attainable to purchase the lot with the hopes of building their dream home in their dream location.
Let the Market Decide if Your Home is Able to Sell As-Is
Today's current hot competitive seller's market makes placing any home on the market an actual viable option. It is very possible that you will receive offers you were not expecting on your seemingly less than desirable teardown home.
The prime factor that will drive interest in your home is its location above anything. You may even see a bidding war over your prime land location with your ailing home atop of it.
Related: What to Consider When Buying a House to Tear Down and Build New
Over the last several years in times of lesser competition, some highly desirable neighborhoods within the largest cities across the country have seen bidding wars for homes with such horrible problems as mold infestation. For example, in May 2016 one home in a top neighborhood of a major American city saw 41 offers just to be demolished down to the foundation and rebuilt.
So no matter the condition of your home, and if all the properties around you look way better, it may be very lucrative to sell your home. For more information on selling your Southern Maryland home please contact us anytime.
More Tips:
Contact Me for a Free Consulation