Visiting the Most Spectacular Holiday Light Displays in Southern Maryland
Posted by Billy Rabbitt on Monday, October 16, 2023 at 10:43 AM
By Billy Rabbitt / October 16, 2023
Comment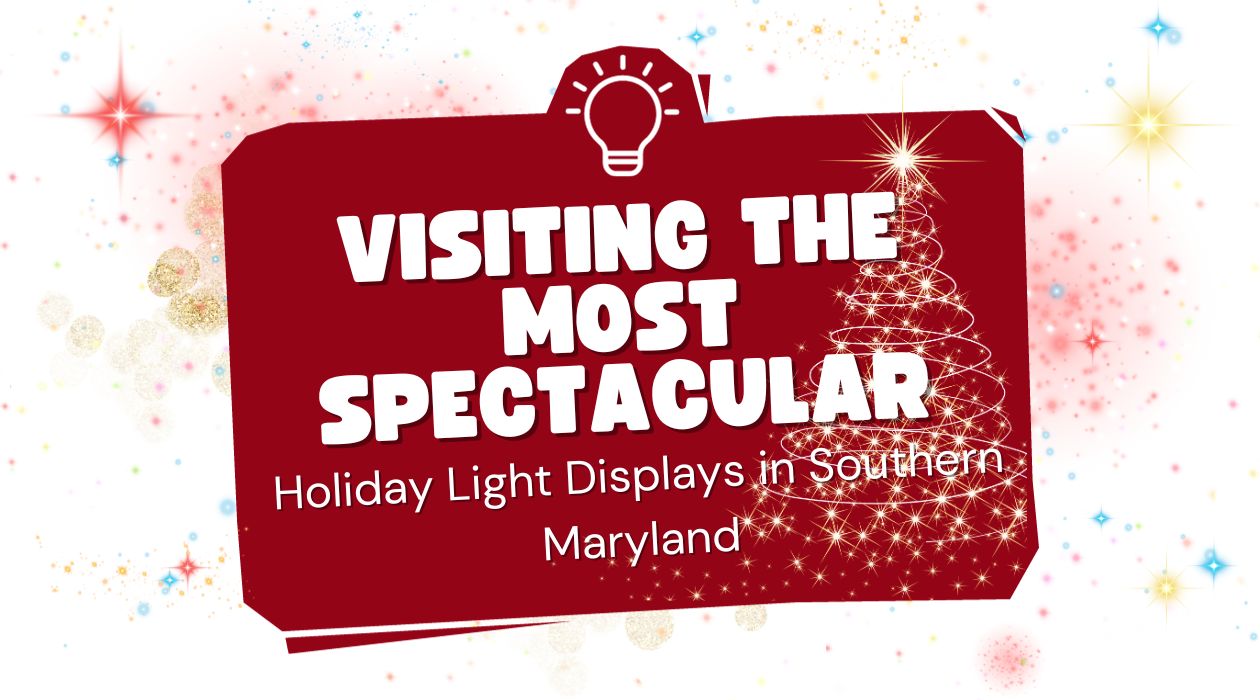 Light up your Christmas: Visiting the Most Spectacular Holiday Light Displays in Southern Maryland
If you're searching for the perfect holiday adventure to delight your senses and lift your spirits, look no further than Southern Maryland's spectacular light displays. Glowing with a kaleidoscope of vibrant colors and intricate patterns, these enchanting attractions are sure to fill your heart with warmth and wonder. Whether you're strolling hand-in-hand with someone special, or laughing and singing with your family and friends, the Southern Maryland Holiday Display is a must-see destination that will leave you breathless. So why wait? Bundle up, gather your loved ones, and set out on a festive journey to discover the magic of Christmas Lights in Southern Maryland!

The Christmas season is officially underway in Leonardtown with the highly-anticipated annual Tree Lighting event in the Town Square. The festivities are plentiful with activities such as horse and carriage rides, train rides, and even a live nativity. Various local businesses also join in on the holiday fun by opening their doors and decorating their storefronts, providing a Southern Maryland Holiday Display like no other. The decorations are truly a sight to behold, with twinkling Christmas lights Southern Maryland residents are sure to love and plenty of holiday-themed décor to complement the joyful atmosphere. Those who attend can indulge in hot drinks, fresh kettle corn, and other treats, making it a perfect outing for family and friends. Sponsored by the Leonardtown Volunteer Fire Department, Leonardtown Business Association, and the Commissioners of Leonardtown, this event is a cherished tradition that should not be missed. Mark your calendars for November 24th and experience all that the holiday season has to offer in beautiful Southern Maryland. Click here for more details.

Celebrate the magic of the holiday season with Casual Christmas event at Mount Chance Farm. This family-friendly event is the perfect way to kick off the holiday season and is sure to put a smile on faces of all ages. Take a photo with Santa, stroll through the local vendors and indulge in some delectable dinner options. The "Grinchmas" hay ride is sure to be a hit, as well as pony rides for the kiddos. Be sure to take in the stunning Southern Maryland holiday decorations that are sure to get you in the festive spirit. Come join in on the fun on November 24 at 5PM! Click here for more details.

The Annmarie Garden In Lights is one of the most anticipated Southern Maryland holiday displays in the region. From November 24, 2023, to January 1, 2024, visitors can enjoy this spectacular outdoor holiday light show from 5:00 pm to 9:00 pm every night. This outdoor wonderland showcases festive exhibits, holiday shopping, and food trucks. You'll be transported to a magical world full of amazing glowing "light sculptures" and wondrous light installations. From musical holiday scenes to deep sea treasures, sparkling trees, and more, you'll find something for everyone here. What's more, their talented staff creates new "light sculptures" and installations every year to keep devoted fans coming back year after year! Don't forget to check out special events, including Santa Sundays, the Holiday Train Display, Special Needs Night, Local Hero Nights, Golf Cart Tours, Pet Night, and Holiday Pop-Up Shops!

Get ready to immerse yourself in the magical world of holiday lights and decorations with the SOMD Holly Jolly Light Trail 2023! Hosted by the Rabbitt Team, this event promises to be a celebration of creativity and imagination, as each participant showcases their unique holiday display throughout Southern Maryland. From dazzling light shows to stunning holiday decorations, this community lights display contest is not to be missed! And the best part? You can even watch the displays from the comfort of your own home with the Facebook live stream, and then vote for your favorite display. So get ready to be dazzled and delighted by the Southern Maryland holiday display, featuring the most beautiful Christmas lights and holiday decorations Southern Maryland has ever seen!
The holiday season can be filled with joy and excitement, but it can also come with a great deal of stress, especially when it comes to decorating your home. That's where J&J Christmas Lighting comes in! As a professional Christmas lighting company, they specialize in creating stunning Southern Maryland Holiday Displays that will leave your neighbors in awe. They use only the highest quality Christmas Lights Southern Maryland has to offer, and work with you to create custom Holiday Decorations Southern Maryland that fit your style and budget. Say goodbye to the hassle of untangling lights and climbing ladders, and let J&J Christmas Lighting help you take your holiday décor to new heights!
From twinkling Christmas lights, to wreaths and garlands, the Southern Maryland Holiday Display will certainly get you into the holiday spirit. So gather your family and friends and head over for a memorable experience that will definitely be a highlight of your holiday season. Come and see why the Christmas Lights Southern Maryland has to offer is a must-see attraction.