Types of Land & Lots: Finding the Perfect Fit for Your Investment Goals
Posted by Billy Rabbitt on Thursday, August 3, 2023 at 10:07:31 AM
By Billy Rabbitt / August 3, 2023
Comment
Welcome to the world of real estate investment where the possibilities are endless. Are you ready to take the first leap? Before you dive in, it's important to have a clear idea of what you're looking for when it comes to the type of land or lot you want to invest in. Whether you're interested in building your dream home or starting a business, each type of land and lot comes with its own set of pros and cons. In this article, we'll explore the various types of land & lots available to help you find the perfect fit for your investment goals.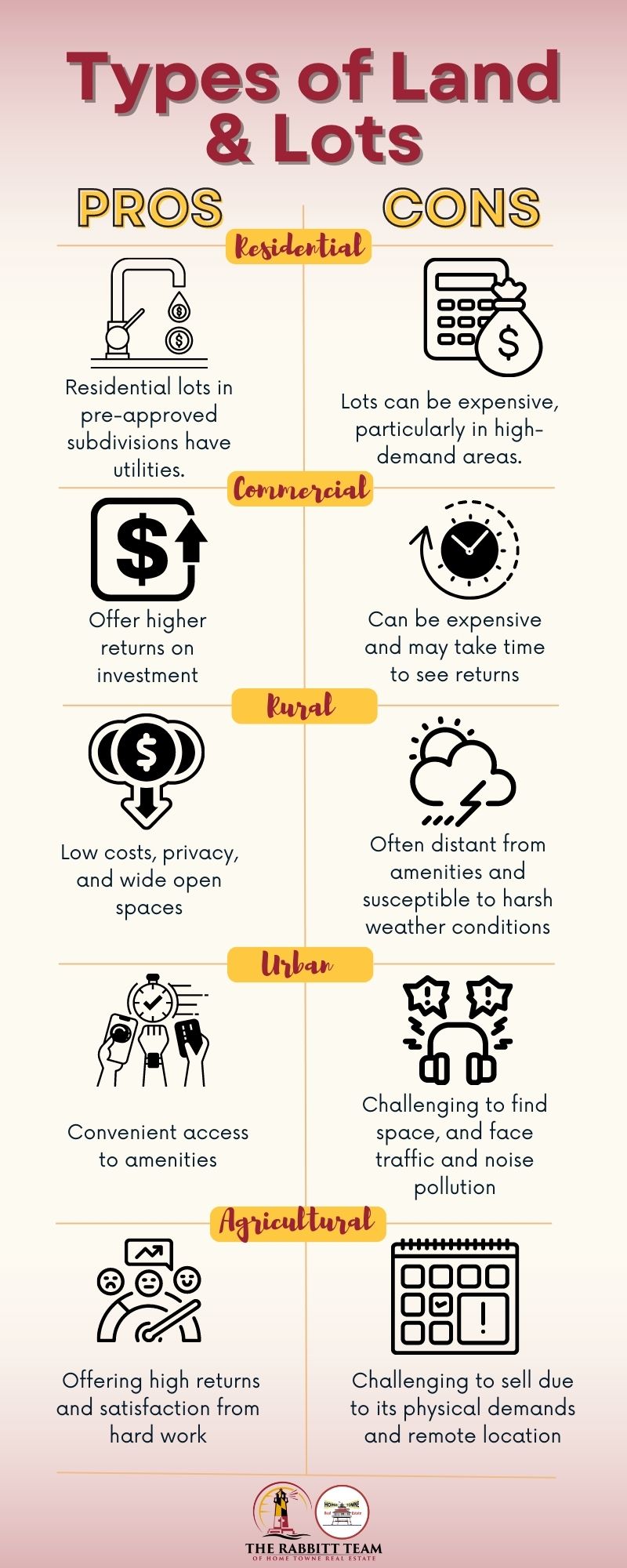 Residential Lots:
These types of lots are an excellent choice for investors looking to build their dream home, it is one of the most common types of land investments.. Residential lots are often located in pre-approved subdivisions and come with utilities, including water and electricity. They're a safe investment for those looking to build their forever home, and can also provide steady cash flow through renting out properties.. However, these lots can be expensive, particularly in high-demand areas. Plus, you may face neighborhood restrictions regarding the style and size of your home. Nevertheless, residential lots remain an attractive option for many investors.
Commercial Lots:
Commercial lots are ideal for entrepreneurs looking to start or expand their businesses in commercial zones like shopping centers, supermarkets, and gas stations. They offer higher returns on investment but require a larger upfront capital investment. However, they can be expensive and may take time to see returns. Additionally, zoning regulations may restrict business types.
Rural Land:
Rural land offers low costs, privacy, and wide open spaces for recreational activities. However, it is often distant from amenities and susceptible to harsh weather conditions. Ideal for retreats, ranches, and farms, it provides privacy and long-term investment opportunities.
Urban Land:
Urban lands offer convenient access to amenities and are ideal for progressive investors seeking urban living. However, they can be costly, challenging to find space, and face traffic and noise pollution. Despite these challenges, urban land offers high returns on investment and is ideal for multiple businesses in densely populated areas. It is a long-term investment with immediate development potential.
Agricultural Land:
Agricultural land is ideal for investors interested in farming, offering high returns and satisfaction from hard work. However, farming is physically demanding and requires dedication. Agricultural land can be remote and far from cities, making it challenging to sell due to limited marketability. Despite its advantages, agricultural land can be challenging to sell due to its physical demands and remote location.
Choosing the right piece of land can be challenging, but understanding different types of land can make the decision easier. Each type of land investment has its own benefits and risks, making it essential to identify your investment goals and objectives before making any purchase. It's not just about aesthetics or location, but also about potential returns on your investment. Whether you're considering residential, commercial, rural, urban, or agricultural land, make an informed decision that aligns with your investment objectives. Good luck on your journey to finding the perfect investment fit.