Kitchen Renovations That Add Value to Your Home
Posted by Billy Rabbitt on Wednesday, July 6, 2022 at 1:53 PM
By Billy Rabbitt / July 6, 2022
Comment
The kitchen really is the heart of the home. There are so many important things that happen there. This is often why it is said that beautiful kitchens sell homes. If you have a kitchen that is in need of some updating or renovating to make it more functional and useful, you want to make sure that you stick to renovations that increase the value of your home.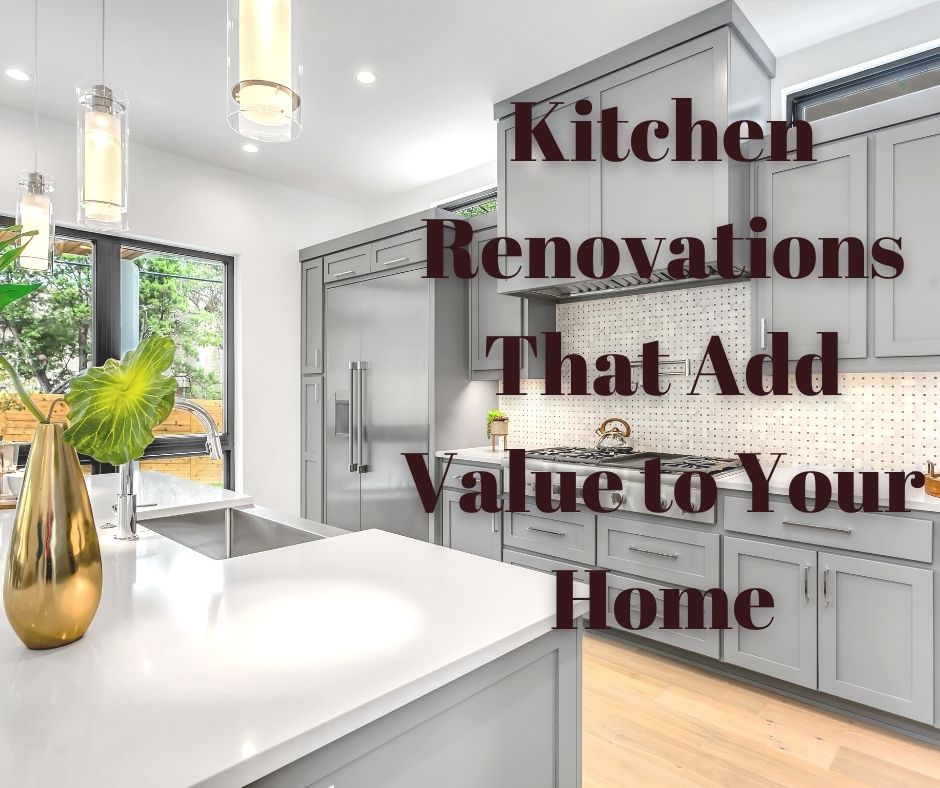 If you plan to sell your home in the future you want to make sure that you are upgrading your kitchen in a way that will work for you now and work for you in the long term by adding value to your home and being desirable to buyers.
Here are the top five kitchen upgrades that add value to your home
Kitchen Island
Creating more useful counter space is the biggest way to increase the overall value and desirability of your home's kitchen. A nicely sized kitchen island is highly sought after by potential buyers. It is seen as a kitchen that can easily function for anything they imagine using it.
If you currently do not have a kitchen island this can be a very costly upgrade to a kitchen. Expect to spend anywhere from $3,000 to $10,000 depending upon the size and style of the island materials as well as if you decide to bring in any plumbing or electrical to the island.
Related: Creating More Useable Space in Your Home Without Major Renovations
Bring cabinets into the current century
Having outdated or tired cabinets is a huge turn-off to buyers when looking for a home. One good thing about updating cabinets is you do not have to completely rip out the old and bring in new. If your cabinets are in good shape, you could simply update them by switching out the hardware or refinishing or painting. Depending upon how many cabinets you, have you can get this project done for as little as $100.
Before painting cabinets, you want to make sure that you are well educated in how to properly do so if you plan to do it on your own. There are certain steps like sanding and purchasing the proper type of paint that needs to be taken into consideration.
Updating or upgrading appliances
The quality of appliances in your kitchen is a large area of attention for potential buyers. You can draw in interested buyers when your appliances are within a few years old or brand new. You can also appeal to a larger amount of buyers with higher quality appliances that offer better functions and energy efficiency.
Countertop
Although having luxury finish countertops is never out of style, gone are the days of a dark finish granite countertop with metallic speckles running through it. Today kitchens are going for a much brighter look using white or light gray finishes. Homeowners and buyers are now savvier about what it takes to take care of and maintain granite as well as other forms of natural stone and are looking for something with a little lesser maintenance demand like quartz.
Multi-functioning Space
Kitchens are able to double as other functioning zones are in high demand especially as we come out of the pandemic and more people saw the need to turn new areas into something else. Adding more functionality to the kitchen is highly desirable as people continue to spend more time at home.
Kitchens that have a small corner or nook etched out for a built-in desk that can function as an area to do homework while parents cook dinner; or a place to quickly check the family schedule and pay some bills after making a morning cup of coffee will bring a lot of value and interest into your kitchen.
When it comes down to it, the improvements in your kitchen that add the most value to your home are the ones that create more ease of use and are currently within demand from buyers.
For more information on homes in southern Maryland please contact us anytime.
More Upgrades that Add Value to a Home
Primary Room Upgrades that Increase Home Value
Gardening with Curb Appeal in Mind
Great Low-Cost Landscaping Tricks