JMJ Firearms LLC
Posted by Billy Rabbitt on Thursday, August 3, 2023 at 12:44:36 PM
By Billy Rabbitt / August 3, 2023
Comment
When it comes to firearms, having a trusted, one-stop-shop that caters to all your needs can make all the difference. Today, we're shining the community spotlight on JMJ Firearms LLC, a reliable source for everything from ammunition and handguns to rifles, shotguns, and NFA products.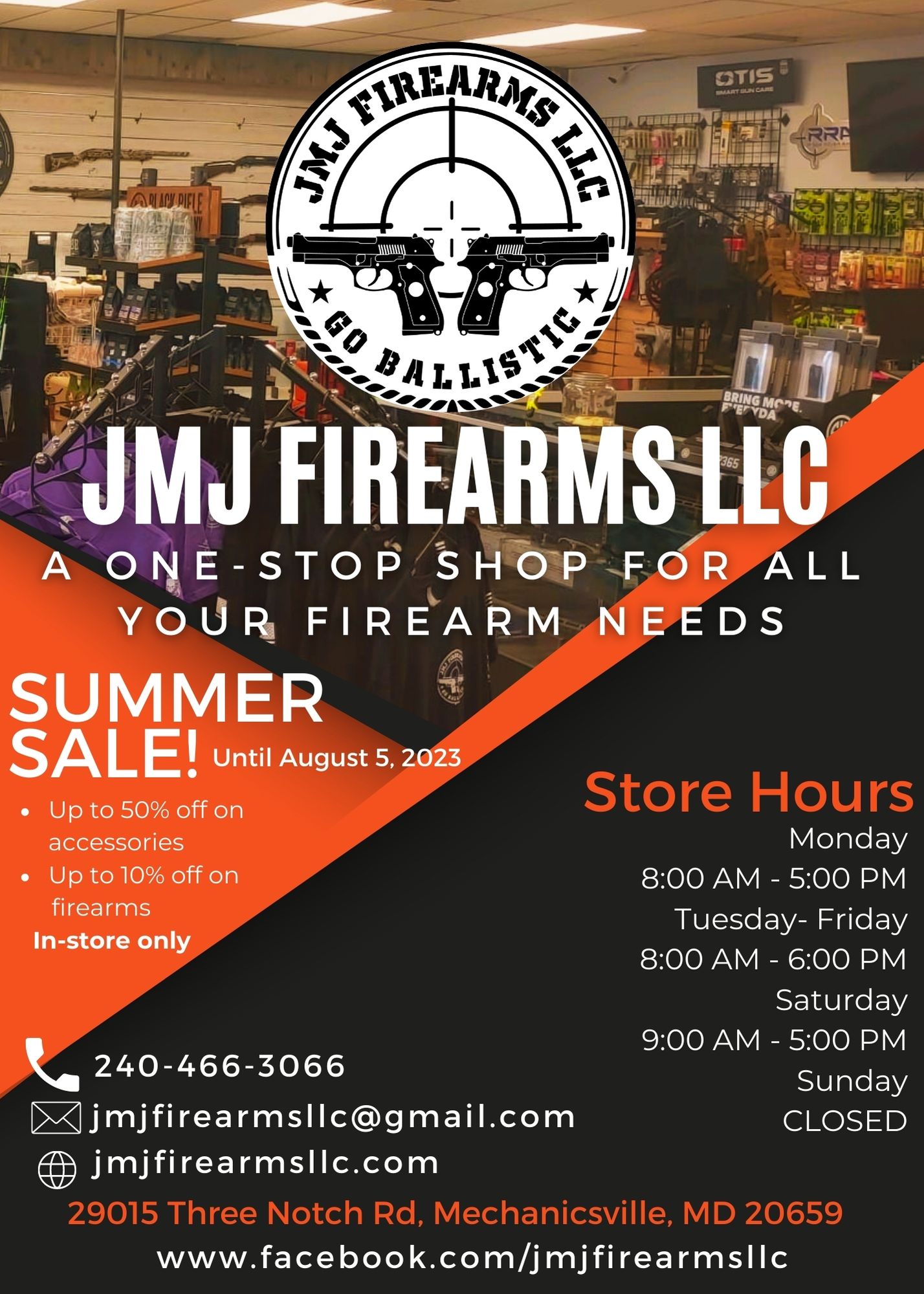 Not only do they offer an extensive range of firearms and accessories in Mechanicsville, but they also provide financing options, top-notch customer service, and some fantastic deals! So, let's dive in and learn more about what makes JMJ Firearms LLC stand out from the rest.
A Wide Range of Products
JMJ Firearms LLC has a vast inventory designed to cater to every firearms enthusiast. Some of their product offerings include:
Ammunition: Stock up on rounds for your preferred firearm with their comprehensive selection of brands and calibers.
Handguns: From concealed carry options to full-size pistols, JMJ Firearms has an array of handguns suited for various purposes and skill levels.
Rifles: Whether you're an avid hunter or a recreational shooter, you'll find a reliable and high-quality rifle in their extensive collection.
Shotguns: Offering both pump-action and semi-automatic shotguns, JMJ Firearms has models perfect for home defense and hunting.
NFA Products: For those looking to expand their collection with suppressors, short barreled rifles (SBRs), or other NFA-regulated items, JMJ Firearms is ready to guide you through the process and supply the products you need.
Financing Options Available
JMJ Firearms LLC understands that firearms can be a significant investment. To ensure customers can afford the equipment they need, they offer financing options through their website, JMJFIREARMSLLC.COM. Now you can purchase your dream firearm without breaking the bank!
Summer Sale - Limited Time Offer
Don't miss out on their fantastic Summer Sale featuring:
Up to 50% off accessories
Up to 10% off firearms
This offer is available in-store only until August 5th, 2023. Be sure to check them out before time runs out!
JMJ Firearms LLC is genuinely a one-stop-shop committed to providing top-quality firearms, accessories, and exceptional customer service. With their diverse product offerings, financing options, and incredible summer sale, there has never been a better time to check them out!
What are your favorite firearms or accessories from JMJ Firearms LLC? Let us know in the comments section below, and don't forget to share this community spotlight with your fellow firearms enthusiasts!