HILL'S AUTO REPAIR
Posted by Billy Rabbitt on Wednesday, August 9, 2023 at 11:05 AM
By Billy Rabbitt / August 9, 2023
Comment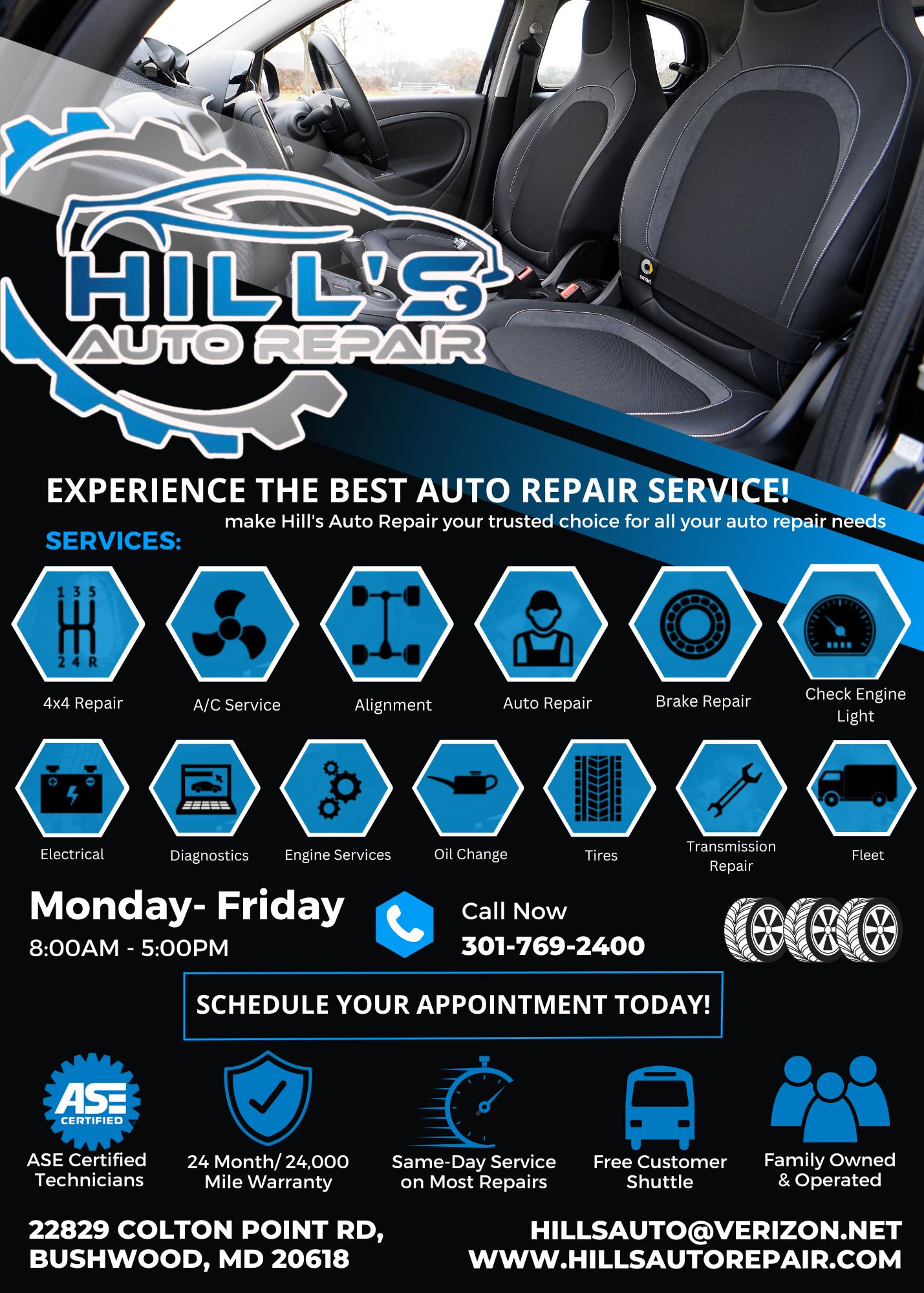 In a fast-paced world where cars have become a necessity, keeping your vehicle in good condition is as important as having one. Regular maintenance and servicing are vital for ensuring that your ride stays on the road for years to come. Hill's Auto Repair is your go-to auto repair service provider in Bushwood, MD. With excellent customer service and years of experience under their belts, you can trust Hill's Auto Repair to fix your car and get you back on the road in no time.
ASE Certified Technicians:
Hill's Auto Repair takes pride in their team of ASE certified technicians. The National Institute for Automotive Service Excellence (ASE) certifies Hill's Auto Repair to ensure that they meet industry standards when it comes to repairing and servicing your vehicle. Team of technicians has undergone rigorous training and testing to be certified, which ensures that your vehicle is in good hands when it is in their care.
24 Month/24,000 Mile Warranty:
Warranty is crucial when it comes to car repairs. Hill's Auto Repair offers a 24-month/24,000-mile warranty on their services to ensure that their customers can relax knowing their car is covered, giving you peace of mind knowing your car is in top shape.
Same Day Service on Most Repairs:
Hill's Auto Repair values your time; that's why they offer same-day service on most of their repairs. They understand that being without transportation can be disruptive, especially if you rely on your car to get to work or school. That's why their technicians work efficiently and effectively to ensure your car is back on the road in no time.
Family Owned and Operated:
Hill's Auto Repair is a family-owned and operated auto repair service provider, which is why their customer service is unmatched. They treat their customers like family and go the extra mile to ensure you're comfortable while waiting for your car to be serviced.
Services Offered:
Hill's Auto Repair offers an array of services that cater to every car service need. Their services include 4x4 Repair, A/C Service, Alignment, Auto Repair, Brake Repair, Check Engine Light, Electrical, Diagnostics, Engine Services, Oil Change, Tires, Transmission Repair, and Fleet services in Bushwood. No matter what your car needs, Hill's Auto Repair has got you covered.
In summary, Hill's Auto Repair is your one-stop-shop for car repairs in Bushwood, MD. They have years of experience, a team of certified technicians, offer a 24-month/24-mile warranty on all their services, provide same-day service on most repairs, and offer a wide range of services to meet all your car servicing and repair needs. Check them out at www.hillsautorepair.com and schedule your appointment today by calling 301-769-2400. Like and follow them on Facebook to stay up to date with their latest deals and updates. Hill's Auto Repair is where quality service meets customer satisfaction.