Great Low-Cost Landscaping Tricks
Posted by Billy Rabbitt on Sunday, April 24, 2022 at 12:47 PM
By Billy Rabbitt / April 24, 2022
Comment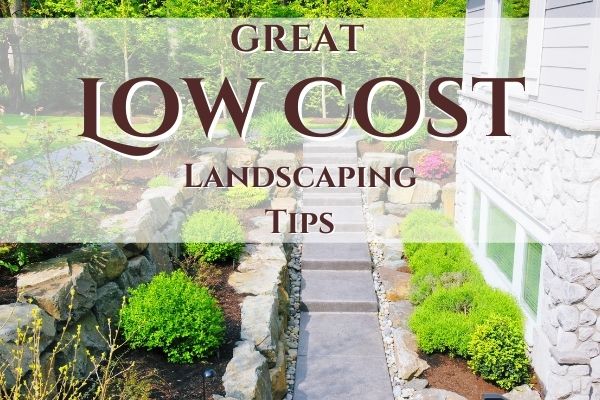 Keeping your yard looking lush and thriving can cost a lot of money but it doesn't have to. There are some tricks you can use to save hundreds of dollars on purchases to keep your yard looking great.
Easy to do landscape projects with money-saving tips
Mix soil and homemade compost
When planting flowers most people go out and purchase potting soil but this can get expensive very quickly. Soil is essential to a healthy plant but you can cut your costs on potting soil by mixing it with some organic scraps around your yard.
If you're not interested in making and maintaining a compost pile you can mix up a quick batch of compost using old coffee grounds and mud or clay-like dirt found in your yard to mix with potting soil and stretch it out further. Adding mulch to flower bed areas also helps to provide nutrition to plants and cut down the need for so much potting soil.
Start out with young shrubs and plants
There are many great local nurseries in Southern Maryland and when you shop them you are probably going to be drawn to the mature flowers and plants because they are the most visually appealing. There's no problem with this, most people are. However, it is better to choose young plants as their price tag is generally lower. You may want to see beautiful mature plants right now in your garden but you will be surprised at how quickly a plant grows once it is planted and well-maintained.
Consider waiting until the end of the season
It can be motivating to see other people sprucing up their yards in the middle of this season and may have you motivated to grab your keys and head out to the nearest store that sells plants. If you hold off until the end of the season you will find that some retailers will be holding clearance sales on seasonal items. The end of spring and summer are good times to shop even if a plant looks a little tired it may be perfectly salvageable just talk to you a gardening expert at the nursery. You want to make sure you plant them soon after bringing them home and give them plenty of water.
Pick perennials
Annual flowers are very popular as there are several featured in the stores with amazing flowers. Unfortunately, these flowers only last for one season and do not come back. They end up costing quite a bit of money as compared to plants that come back every year. The upfront cost of perennials is a bit higher for this reason but is a much better investment as compared to a one-season plant.
Related: Landscaping for HOA Common Areas
Try to find places with free mulch in the community
Not many people realize that several areas have places that offer residents free mulch. The trick is knowing where to find it. Cities that pick up tree cuttings during the spring and fall often chuck these into wood chippers and turn them into mulch then they need to find someplace to put it.
It is well worth your while and your bank account's to find out if there is a mulch program in your community. You may need to have your own truck to transport it, shovels to move it, and plenty of people that are able to spread it. This is all worth the very low price tag, however.
For more information on living in southern Maryland including southern Maryland real estate please contact us any time.
More Landscaping and Gardening Tips
Things to Improve Curb Appeal While Selling Your Home
South Maryland Spring Gardening Tips and Tasks
Getting your South Maryland Garden Ready for Spring