End of Summer Fun Happening in St. Mary's County
Posted by Billy Rabbitt on Thursday, August 11, 2022 at 9:00 AM
By Billy Rabbitt / August 11, 2022
Comment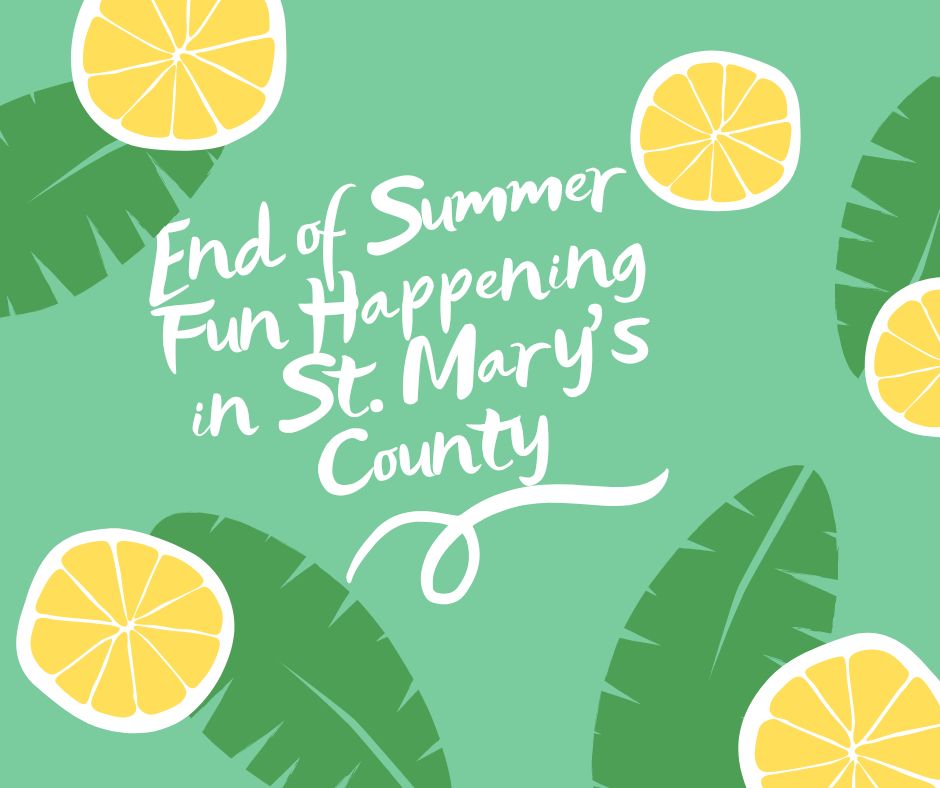 Summer is not over yet and there's still a lot of fun to be had in Southern Maryland. Here are some fun things going on in St. Mary's County in Southern Maryland for the end of summer.
Story and Craft Time at the Plantation at Historic Saint Mary's
A fun event for your kids on Thursday, August 18 from 10 AM to 11 AM. Bring your family out to enjoy time with the Spray Family for story and craft time at the plantation. This event is focused on preschool-age children from 3 to 5 years old with their favorite adult. The cost is four dollars per child and the accompanying adult is free. Your ticket also gets you full-day admission.
Free Trolley Rides Around Leonardtown
On the weekends all summer long anyone can enjoy writing the Leonard town trolley for free. It is a lot of fun to get around downtown Leonardtown on the trolley and riding it for free is even better. This is a fun way to save some gas and get out and enjoy downtown Leonardtown. The trolley offers free rides on Fridays from 5 PM to 10 PM, on Saturdays from 10 AM to 10 PM, and on Sundays from 11 AM to 5 PM.
Leonardtown Summer Music Festival
The Leonardtown summer music festival is still going strong it takes place this year through October. You can head to the Leonardtown summer music festival website to get a list of every band performing and the date that they will perform. The next couple of concerts coming up include the group Flippin Eyelids on August 20 from 4 PM to 7 PM at the Leonardtown Wharf and Josh Airhart on August 27 from 4 PM to 7 PM at the Port of Leonardtown Winery.
Children's Day at Saint Clement's Museum
Every year the Saint Clements Island Museum in Colton's Point hosts Children's Day. This year Children's Day is on Saturday, August 20 from 11 AM to 2 PM. This is a free family fun event. There will be games, face painting, crafts, snow cones, a bike raffle, balloons, and more. There will also be exhibitors outside the museum including the local fire department rescue squad. There will also be fun music played by Hometown Karaoke and DJ Services to get everybody moving and shaking.
The optimist club of the seventh district will be there offering a kiddy tractor pull and the awesome free bike raffle for children 12 and under. It is encouraged that any family coming to the event get there early. The first 100 children on Children's Day will receive a free water bottle.
The Optimus Club will also be selling hamburgers, hotdogs, fries, and drinks for hungry children's day guests. The museum is located at 38370 Point Breeze Rd. in Colton's point.
Arrival of the new Maryland Dove in Historic Saint Mary's
A new Maryland dove replica historic ship has been built for visitors of historic Saint Mary's to enjoy. The ship is scheduled to arrive in the port at historic Saint Marys City between 10:30 AM and 10:45 AM on August 27.
Beginning at 11:30 AM there will be a commissioning ceremony at the Margaret Brent Pavilion where the ship's log will be given to the museum by the Chesapeake Bay Maritime Museum. There will also be a ribbon-cutting at the Maryland Dove dock to officially welcome guests aboard the new vessel.
From 12 noon to 5 PM there will be free time tours of the new Maryland Dove. Advance registration for tours is required and you can get your tickets online. At 12:30 PM there will be live music and at 2 PM there will be a discussion about the Maryland Dove at the visitor center auditorium. They will also be several fun activities taking place throughout the day at the Margaret Brent Garden.
Open House at Drayden African American Schoolhouse
This fun and interesting event happens monthly from April to October. This is one of the best and most lovingly preserved African-American schoolhouses in the entire country. It is a historic one-room schoolhouse on its original site. The schoolhouse originated in 1890 and ran through 1944.
The next tour will take place on Saturday, September 3 over Labor Day weekend. It is a free event for everyone to enjoy taking place from 11 AM to 2 PM. Volunteers will be available on-site to share stories about the schoolhouse and its unique history. This is the only time to take a free open house style tour at other times you will need to book a reserved tour.
For more information on living in Saint Mary's County including available Saint Mary's County real estate in southern Maryland please contact us anytime.
More Great Things to do Around Southern Maryland