What to Consider When Buying a Home in Maryland if Relocating for Work or Military Service
Posted by Billy Rabbitt on Friday, September 11, 2020 at 5:47 AM
By Billy Rabbitt / September 11, 2020
Comment
What to Consider When Buying a Home in Maryland if Relocating for Work or Military Service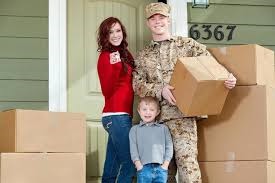 Maryland is notorious for its beaches, football, and, of course, it's crab cakes. But there are several other reasons why Maryland has developed a cult following, making it a popular relocation destination for new homebuyers.
In particular, Maryland is an outdoorsman's paradise, featuring over fifty rivers, creeks, and waterways as well as numerous local and state parks . It is also home to the Appalachian foothills, great for hiking and camping.
If your family is looking to plant roots, Maryland's long history dating back to one of the original 13 colonies provides an infusion of both traditional and modern values, surpassed only by local pride, admiration, and support for local heroes and service members of the armed forces1.
In fact, Maryland is home to several military bases and installations including - Fort Meade, Annapolis, Fort Derrick, NAVAIR (Naval Air Station Patuxent River or NAS Pax River), Andrew's Airforce Base, and the Aberdeen Proving Grounds.
If you need more convincing, there are other advantageous reasons to move to Maryland including a robust job market and a housing market that is on fire. Ultimately, Maryland is the perfect place to build a career or start a family.
If you are thinking about relocating to Maryland for work or due to military service, here are some things to consider when buying a home in the "Free State."
Don't Overpay, Set a Budget
Now has never been a better time to purchase a new home. However, you still want to make sure you are getting the most home for your budget.
Maryland, among other states, is experiencing a housing boom as a result of low inventory and near record low mortgage interest rates, which in turn is heightening consumer demand.
However, low inventory coupled with high demand can also mean higher price points. It should come as no surprise that property values are increasing and competition remains high.
Statewide the residential housing market saw an 8.1% increase in sales for June 2020 compared to the same period last year, with the average median sales price increasing by 7.3% to $339,9002.
The Baltimore-area in particular saw home sales hit a record high over the same period, up 16% for the region with a median sales price of $320,000 comparatively3.
Since the northeast generally has a higher cost of living than the national average, it makes sense to create a budget for how much home you can afford and stick to it4.
Find That Sweet Spot
Let's face it, if you are moving you want to find a place to call home that is close enough to work where you commute will not feel like a grind. Similarly, if you are moving for military service, buying in an area close to the base makes the most sense.
The great thing about Maryland is that it offers a lot of great communities that are all within 30-45 minutes of both major urban cities and military stations.
Ellicott City, Catonsville, Clarksville, and Columbia, to name a few, are some of the more popular areas attracting younger military and non-military families alike who are looking to plant roots and settle down in the area.
Some of the advantages of these communities are that they have great schools, are near local attractions (both natural and commercial), and are in reasonable proximity to Annapolis, Baltimore, or even Washington-D.C.
More Money, Less Problems
COVID-19 has created uncertainty throughout the nation about the stability of the economy as a whole. Unemployment seems to be a growing concern amongst homeowners.
Compared to other states Maryland has remained relatively resilient against growing economic pressures. In fact, the median household income in Maryland was higher than the national average across the entire United States5.
If you are relocating to Maryland and looking for work, there are numerous opportunities in management, education, and healthcare5.
More Tips for Those Relocating:
10 Things to Ask Your Agent When Touring a Kitchen
5 Things to Know Before Your First Military Move
How to Find a Great Home for You and Your Pets
Sources
1 History.com Editors. (2009, November 09). Maryland. Retrieved September 3, 2020, from https://www.history.com/topics/us-states/maryland
2 June 2020 Data at a Glance. (n.d.). Retrieved September 3, 2020, from http://www.mdrealtor.org/Publications/Publications/Monthly-Housing-Statistics
3 Mirabella, L. (2020, August 11). Baltimore-area home sales hit record high in July as inventory slides to 10-year low. Retrieved September 3, 2020, from https://www.baltimoresun.com/business/real-estate/bs-bz-balrtimore-home-sales-july-20200811-2na6cx2rknennggjoexa6iuzr4-story.html
4 Cost of Living Data Series. (n.d.). Retrieved September 3, 2020, from https://meric.mo.gov/data/cost-living-data-series
5 Maryland. (n.d.). Retrieved September 3, 2020, from https://datausa.io/profile/geo/maryland#economy