Best Public Fishing Spots in Southern Maryland
Posted by Billy Rabbitt on Monday, August 23, 2021 at 1:14 PM
By Billy Rabbitt / August 23, 2021
Comment
Fun fact about Maryland: nearly one-fifth of the state is made up of water. With this much water, there is bound to be some amazing fishing. Maryland has several great public fishing spots both fresh and saltwater. Maryland is known for its abundance of striped bass, streams full of trout, and countless seafood catches on the shores of the Atlantic Ocean.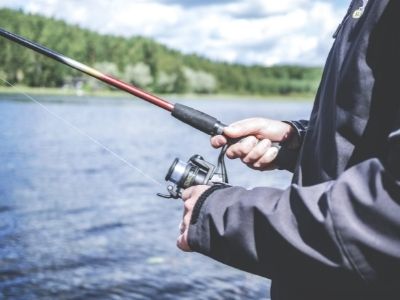 Many of the best public fishing spaces in southern Maryland are freshwater spots. There are a few great saltwater areas in Calvert County as well. Here are some of the best public fishing spots in southern Maryland for both sport or catching a fresh and healthy dinner.
Freshwater Fishing Hotspots
Charles County
The Potomac River Tributaries: to fish in this area you will need a Chesapeake Bay Sportfishing License including the Potomac River and any tributary
Mattawoman Creek: this freshwater fishing spot is in the west part of the county above the bridge at Maryland 225 highway
Wheatley Lake: this is a catch and release trophy bass lake. Those looking to fish can catch both large and smallmouth bass in the lake . There are other species in the lake including crappie, channel catfish, bluegill, and redear sunfish.
Prince George's County
Piscataway Creek: this fishing spot runs through the southeast part of the county near Clinton north of Livingston Road. Here you can catch largemouth bass, striped bass, chain pickerel, crappie, channel catfish, yellow and white perch, bluegill sunfish, and carp.
Lake Artemesia: a 38-acre lake that is a family-friendly fishing atmosphere full of trout, largemouth bass, and bluegill. This has been a favorite family fishing spot in South Maryland for over 25 years.
St. Mary's County
St. Mary's Lake: This lake is located in Saint Mary's River Park and is 250 acres designated for catching and releasing trophy bass. There are both large and smallmouth bass in the lake, other fish that can be found in the lake include chain pickerel, bluegill, redear sunfish, and crappie.
Ann Arundel County
Lake Waterford: this lake is located on the corner of Pasadena Road and Baltimore Annapolis Boulevard it is located in a 108-acre park with 12-acre lake and shoreline fishing.
Waysons Corner: this is a very good spot to catch yellow perch early in the fishing season
Calvert County
Calvert Cliffs Pond: the pond is located in Calvert Cliffs State Park and is always stocked with trout by the Maryland DNR
Saltwater Fishing
Ann Arundel County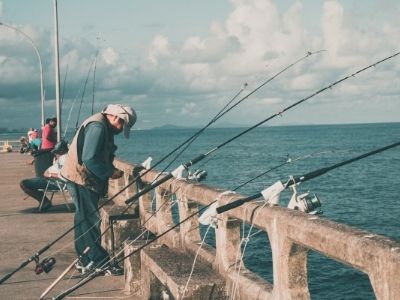 Jonas and Anne Catharine Green Park: this park is located at 2001 Baltimore Annapolis Blvd. in Annapolis and is open from 7 AM to 8 PM. This amazing spot is at the mouth of the Severn River which is a fishery known for its bountiful waters. This is a quiet spot perfect for fishing with a variety of different species including catfish, white perch and croakers. When you're done fishing you can even have a cookout in the park on the sandy beach with the use of a public fire pit.
Calvert County
North Beach Pier: this public pier is a fisherman's treasure trove. To get to the pier you walk along a beautiful flower-lined boardwalk and soak in the small-town charm of the area. Calvert County residents can fish from the pier for free and others can pay a small fee to utilize the area. This spot allows you to fish right from the Chesapeake Bay and catch species such as rockfish, blue fish, white perch, and even the crab that Maryland is so famous for.
Kings Landing Park: this fishing spot is on the shore of the Patuxent River with a history stretching back to Captain John Smith's exploration of the area. The area was once an active farm and a YMCA camp but is now state property managed by Calvert County. It is a popular spot for fishing as well as kayaking and canoeing.
Breezy Point Beach: in addition to being a fun recreation area for swimming, a playground, sandy beach, and volleyball spot, there is a 300-foot fishing and crabbing pier. It is a great place for everyone in the family to have fun at the same time.
Flag Ponds: a historic spot on the Chesapeake Bay that has a fishing pier as well as a visitor center, wildlife displays, and a great place to observe local wildlife outside of the water.
For more information on living in South Maryland including South Maryland real estate please contact us anytime.