6 Things Home Buyers Should Do Before Applying for a Home Loan
Posted by Billy Rabbitt on Monday, October 4, 2021 at 6:15 AM
By Billy Rabbitt / October 4, 2021
Comment
Getting pre-approved and applying for a home loan is a daunting task that can feel very nerve-racking, especially for a first-time homebuyer. This is one of the biggest steps in one of the biggest decisions you will ever make. Buying your first home is massive. How do you prepare yourself and what should you do before applying for a home loan?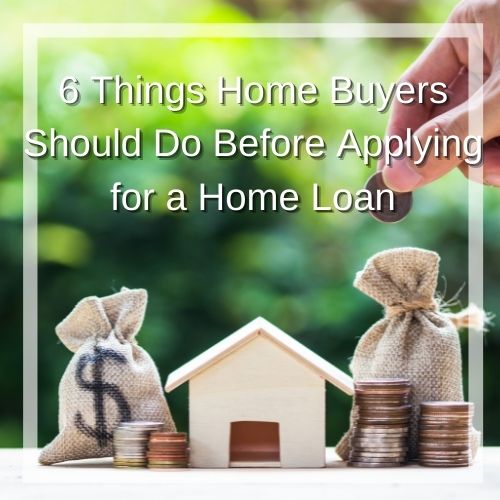 Save for a down payment!
This is huge in the home buying process. There are many loan options accepting 0% down currently but it does make the payments much larger. Another important factor is providing a down payment of 20% can exempt you from Private Mortgage Insurance(PMI). It seems like a daunting task but there are ways to work on this process like being on a budget, making your savings automatic, searching for side gigs, creating multiple streams of income for yourself.
Pre-qualification & Pre-approval
You need to know the difference between these two steps in the process. A pre-qualification is useful to provide you with an estimate on what you can afford to spend on a home. A pre-approval is more valuable in your process because this means the lender spent time verifying and check your credit and financial documentation to approve you for a specific loan amount that you can use for 60-90 days typically to write an offer on a home.
Credit Score
Your credit score is vital in your pre-approval process. A majority of lenders require a FICO score of 620 or higher. This is dependent on what type of loan you are looking to get as well. They factor in what you are able to put down on the home to then evaluate an interest rate as well.
Financial Statements
You will need proof of income and your financial statements from your banking to show your income deposits as well as any potential savings you would have. You will also have to provide W2 statements for the past two years and disclose any assets you may have.
Related: 4Things to Consider When Buying Life Insurance
Employment Verification
In addition to the financial statements, you will need employment verification besides the pay stubs you provide. Those that are self-employed will have to provide additional paperwork regarding their business and income.
Research the Area
Research is everything when you are looking for your first home purchase. You want to know where you want to reside and if you are looking in the right direction. This isn't when you begin to look for specific homes and find yourself falling in love with one. When you are looking at the area you would like to move you want to look at schools, home prices, and proximity to amenities you may need. You also may want to look at crime rates and local news reports.
More: Maryland Mortgage Programs
This is only the beginning as you start your home buying process, but it is a good guideline to prepare yourself to be able to put that offer in on the home you love. The financial aspect is one of the biggest hurdles so you need to properly prepare yourself to apply for the mortgage.
Ready to get started or just have some questions? Check out our mortgage advice here or contact us below at any time.