2022s Best Calvert County Towns According to Niche.com
Posted by Billy Rabbitt on Wednesday, July 13, 2022 at 4:51 PM
By Billy Rabbitt / July 13, 2022
Comment
Calvert County is one of the smallest counties located in the state of Maryland. This southern Maryland County is situated on a peninsula that separates the waters of the Chesapeake Bay on one side and the Patuxent River on the other.
Though it is small, the county sits on land that is brimming with some of the most notable United States History. The county itself was founded in 1654 and received its name from the Barons of Baltimore. Calvert County is a location that played a large role in history-changing wars including the Civil War, World War II, and the Revolutionary War.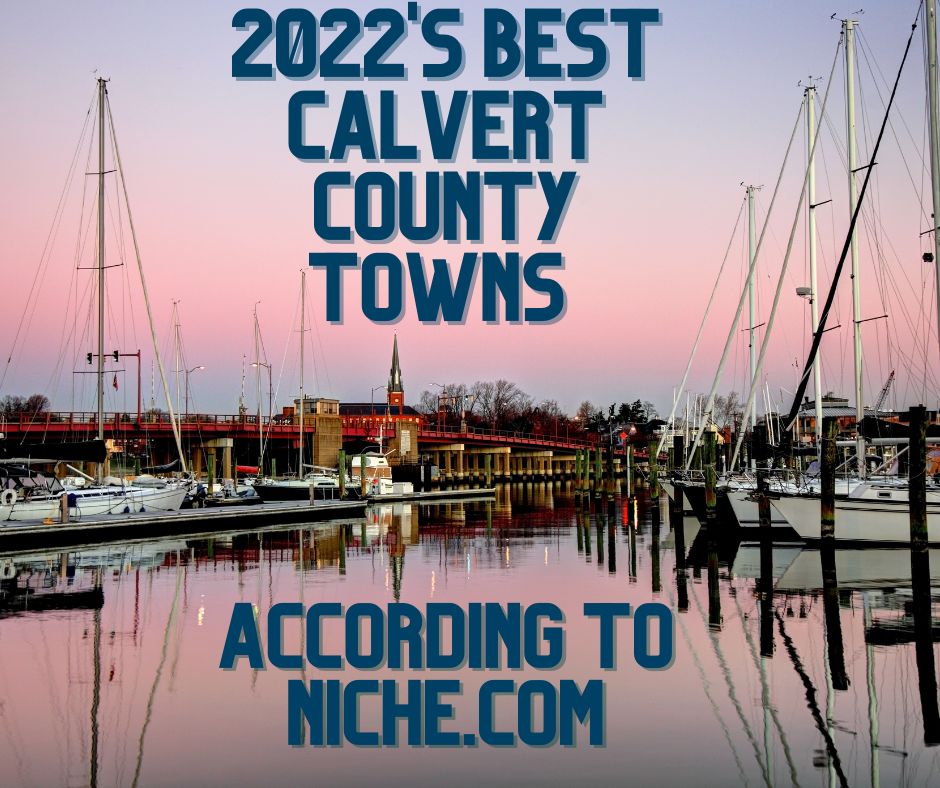 Calvert County is Home to Great Towns
Calvert County in southern Maryland is made up of a handful of small towns, but some would say they are some of the best family-friendly towns in Maryland. The website Niche.com ranks several different "best of" aspects of locations every year.
This is how the best Calvert County towns rank in Niche's "Best Places to Live in Calvert County" and a little bit of information about each town. For a full insight on each town click on the town name.
According to Niche, Dunkirk is loved by the people that live there with a 4 out of 5-star rating from reviewers. The public school system receives an A rating from the website as well.
Dunkirk has seen a lot of growth in the last few years but is still a small and charming town. It is located on the Chesapeake Bay with some of the most beautiful homes in the area.
This town also receives a 4-star rating with 25 reviews and an A rating for the public schools from Niche.
This town has rich history and sits on the shores of the bay with no question of where it received its name. It was once a famous resort town with an Amuement Park until the 1970's. Today it is still a small town full of charm and festivals.
The town of Owings has a 4-star rating with 23 reviews and an A rating for the public schools.
Owings in located in the north portion of the county. It is a town with a mix of farms and traditional suburban neighborhoods.
Huntingtown in Calvert County receives a 4-star rating from 19 reviews and an A rating for the public school system.
Huntingtown is known for its community pride. It is also known for its beautiful estate properties and has seen a lot of growth and interest in recent years.
North Beach has a 4-star rating from 15 reviews and an A rating for the public schools. It also receives a B+ overall rating from Niche.
Just 30 minutes from the large town of Annapolis, this is a great quite location for commuters. People love the location right on the water and the fun boardwalk area.
#6 Chesapeake Ranch Estates
Chesapeake Ranch Estates does not have a starred rating from reviews but receives a B+ rating for public schools and an Overall B rating from Niche.
The town is full of parks, families, young professionals, great schools and community pride.
This town has a B overall rating and a B+ rating for public schools.
Drum Point is on the southern tip of the county. It is an amazing spot for water lovers looking for a quieter atmosphere than larger towns in the area supply. It used to be part of Chesapeake Ranch Estates.
#8 Long Beach
The town of Long Beach Maryland receives a B overall grade from Niche.com and a B+ rating for the public school system.
Long beach has a very relaxed and rural feel it is right on the water just north of the Flag Pond Nature Park. It is a very quiet place to live on the water in Maryland.
Other Best Towns Not Rated, but Included on Niche's Best of List in 2022
- Prince Frederick
- Lusby
- Solomons
- St. Leonard
- Broomes Island
- Calvert Beach
For more insightful information on the best towns of Calvert County, you can also check out Niche's list of " 2022 Best Places to Raise a Family in Calvert County."
For detailed insight on any of these Calvert County Maryland towns you can find links to Calvert County towns in our community guide including information on history, culture, housing, public schools, and links to more information on popular neighborhoods in that town.
For more information on living in Southern Maryland including available southern Maryland real estate, please contact us any time.